The LCD display control panel CP Plus can always be retrofitted in all Truma Combi heaters. It cannot be fitted into older heater models, e.g. the C-heater.XXX
The Combi heaters were launched by Truma in 2007 and can be recognised by the grey casing. From series start in the year 2013 the models have a black casing.
Do the electronics need to be replaced when fitting the CP Plus?
If you already have a Truma Combi heater with the appropriate software version, so only the old control panel need to be replaced with the new one (see installation instructions and user manual. Self-service (truma.com)
How can I see whether the electronics of the Combi need to be replaced?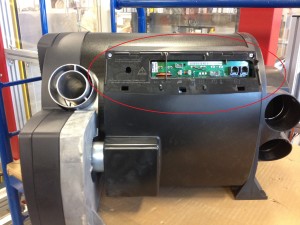 Via the software version of the electronics. To do this, please remove the clipped on part of the electronics cover (see picture left ). You do not need tools for this.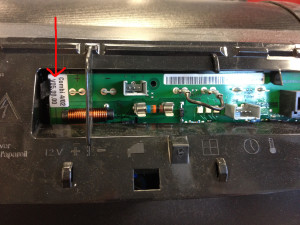 You should now be able to see the part of the PCB to which the positive and negative cable is fitted. There is a sticker here that states the software status of the electronics (see picture on the right).
The table below shows which software status is required for which Combi model..