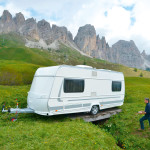 To ensure that the Mover® is ready for use at all times, a reliable power supply must be guaranteed, preferably the AGM batteries with round cell technology. If the Truma Mover® PowerSet is used, the operating time can be extended by up to 50%. It is made of high-quality components which are perfectly matched to the Truma Mover (charger, battery OPTIMA® YT S 2.7 (38 Ah), battery cut-out, temperature sensor and cable set). The drive and lighting batteries are also suitable for the Mover®, e.g. gel batteries or AGM-batteries with round cell technology.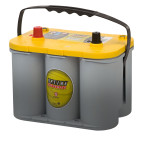 Tipp: If the caravan is not used for a longer period of time, you should always disconnect the connection to the battery via the cut-out as otherwise the battery will deep discharge and suffer damage. In the new Mover® XT the main control system switches off automatically after an hour of non-use.
To store your batteries carefully over the winter it makes sense to remove the battery from the vehicle and place it in a dry and cool place. The battery should always be stored when fully charged and should be recharged every two months (24 hours). For more information about handling batteries correctly, please see the section on tips and tricks.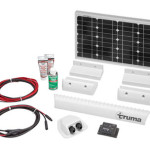 Tipp: The Truma SolarSet 23 protects the battery against deep discharging.