The heater is started on the Truma Combi LCD control panel (1) and the required temperature for the heater and warm water is set. The heater is connected to the vehicle's gas supply via the gas connection (2). The gas supply to the heater is controlled via the solenoid valve (3). The required combustion air enters the device via the external pipe of the combined combustion air/exhaust gas cowl (4) where it is transported to the gas burner (6) via the combustion air burner (5). The gas burner, which is equipped with two igniter plugs (7) and a flame rectification electrode, ignites the gas-air mix in the combustion chamber (8).
The hot exhaust gases are deflected at the end of the combustion chamber on the baffle plate of the flame tube (9) and flow back between the flame tube of the burner and the inner wall of the heat exchanger. They escape into the atmosphere via the exhaust gas cowl (4).
The circulating air fan (10) sends the air that is to be heated into the inside of the device. This air flows along the ribs of the heat exchanger (11) that, thanks to its large transfer surface, ensures optimum heat transfer. There are also additional electrical heating rods (12) with 1,800 Watt inside the heat exchanger that can be used to either heat the water and/or warm air. Then the warm air is distributed throughout the vehicle via four warm air outlets (13).
The fresh water is kept in the outer stainless steel water tank that has a volume of 10 litres (14). It is heated from here via the transfer of heat from the heat exchanger (11). Thanks to the eccentric shape of the water tank, the warm water is circulated ensuring an optimum mix and better temperature layering. The warm water connection pipe (15) connects the Truma Combi to the warm water pipes in the kitchen and bathroom. Cold water is pumped from the fresh water tank via the cold water connection pipe (16).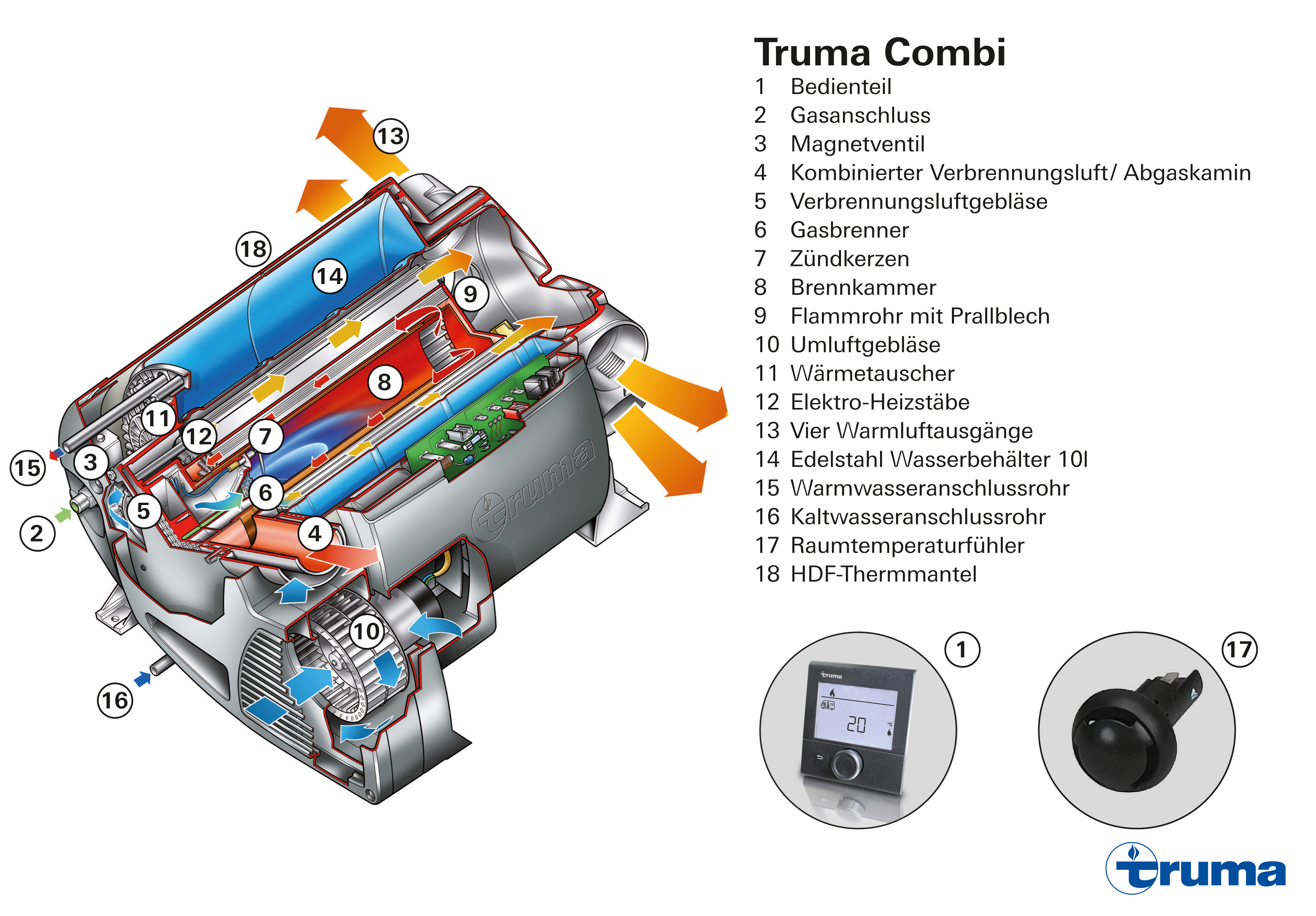 The room temperature sensor (17) fitted in the vehicle measures the air temperature in the vehicle. Also, the water temperature is measured using the internal temperature sensor. Before the required heater and water temperature is reached, the device reduces the heating output. Once the set temperature has been reached, the burner shuts down. If the set heater and water temperatures are undercut, the Truma Combi automatically restarts to heat up the air and water (winter mode). In summer mode, the warm water heater can be operated separately from the heater. The HDF thermal sleeve (18) ensures good insulation of the Truma Combi-heater.