Replacement of the Truma gas outdoor socket and two gas valves
During the course of its quality assurance Truma has established that there may be leaks in the Truma gas outdoor socket and two gas removal valves. This only affects products with a yellow handle cap and the following codes below: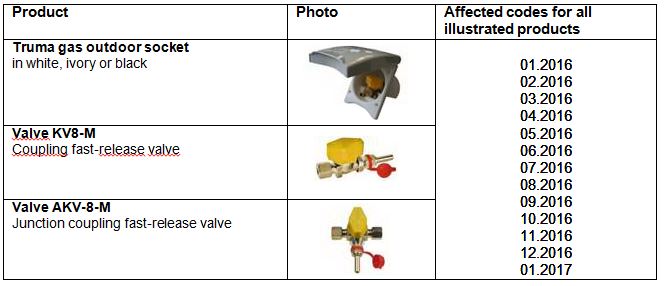 This can cause gas to leak uncontrollably from the affected products. In unfavourable circumstances this can lead to gas deflagration and injuries. We have not heard of such a case yet.
As a manufacturer of premium products, Truma attaches great importance to supplying reliable and safe products. The safety and well-being of our customers is our top priority which is why, to avoid any risk, we and our supplier have decided to replace all affected products. The probability that campers will encounter this fault is very low; nevertheless we would ask them to take the following precautions:
Ensure that the gas system is immediately turned off. To do this, close the cylinders and/or the gas tank or the external gas supply. If the external gas socket is connected to a separate shut-off valve (e.g. on the so-called valve block), you only need to close this shut-off valve.
If there is an awning, ensure good ventilation.
Check the code below the yellow handle cap (picture 1 below). To do this, you may have to turn the ring to read the code. Ensure that there are no ignition sources nearby during the inspection.
If your product has a code between …01.2016… and …01.2017…, please contact your dealer, a Truma Service Partner or the Truma Service Centre for a free replacement. The products may only be replaced by trained personnel; this process does not take very long. Do not use the gas system again or re-open the separate shut-off valve (e.g. on the so-called valve block) until the parts have been replaced!
If your product has a different code than those in the table above, the gas system is safe to use again.
 If you have any questions, please contact us
Truma Service Centre
E-Mail: service@truma.com
Telephone +49 (0)89 46 17- 20 20
Picture 1