You see the warning message "W255H" on your digital display and cannot control your heating anymore?
This primarily indicates a connection problem between the digital control panel and the heating. In this state, commands entered cannot be transmitted or cannot be transmitted correctly.
Attention!
A reset on the CP plus is not used to delete an error, but corresponds to an initialisation, i.e. a device search.
If the reset is carried out while there is a connection problem to the heating, the heating menu is completely lost. Only the time and the setup symbol remain.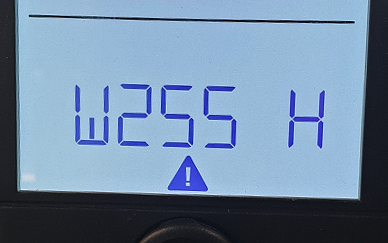 Two factors can be considered as causes of the connection problem:
12 V power supply
Communication is only possible if the heater is powered in addition to the control unit. If this is not the case, the control panel responds with the message W255H.
Please check the heating fuse in your electrical block as well as the fuse on the control board of the heating (Combi) or in the supply line (Varioheat). Replace a defective fuse if necessary.
Note: In our installation instructions, we recommend installing our units on permanent plus.
This means that the power supply to our units cannot be switched off by the central control element (main panel). There should be a permanent connection via the electrical block to the body battery.
TIN connection cable
The TIN cable is used to transmit commands from the control panel to the heater. If this connection is interrupted, the control panel responds with the message W255H.
Please check whether the plug of the TIN cable is correctly seated in the socket on both the control element and the control board of the heater.

As soon as the cause is eliminated, the warning message disappears automatically from the display.
Advice for Combi D: If the installed TIN cables exceed a total length of 12 metres, an error may occur in the communication with the digital control unit (W255H). The "control panel cable coupling" accessory provides a remedy.
Please place this coupling between the TIN socket on the heater and the TIN cable. If two TIN sockets are occupied, it does not matter which of the two TIN cables the coupling is used with.
The article "control panel cable coupling" can be ordered from our specialist dealer (part number 39050-00175).