Camping is on everyone's lips, the industry is booming.
The demand is high, the supply is growing.
Unfortunately, the money that can supposedly be made quickly has led to a number of black sheep jumping on the bandwagon, in addition to many qualified dealers.
Free riders sell products under our name that are not original Truma products.
We will therefore show you today how you can recognize original Truma devices.
the type plate: each of our products is provided with a type plate at the factory. In addition to information about the device, you will also find the manufacturer's details and legal identifiers (e.g. CE):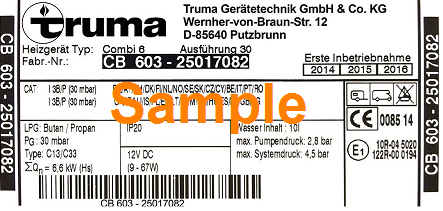 the Truma logo: 70 years of company history is also symbolized by our Truma company logo. This can be found on each of our devices. Sometimes printed, sometimes glued on. But always easily recognizable.

Our outstanding service: For Truma original products, you receive a manufacturer's warranty of 24 months in addition to the statutory warranty. In addition to our service partner network, we offer telephone support and mobile service technicians throughout Germany.
quality: Truma stands for quality and reliability, for transparency and information. Our official homepage www.truma.com is maintained with a lot of information for you. Product information, product pictures and contact details for us and our dealers and service partners can be found there.
Please feel free to contact us if you have any questions or uncertainties.