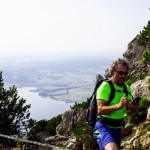 There is no way of knowing what the weather will be like. Not even in Italy. Being able to control your air conditioning system means you can cope whatever the temperature. The Truma iNet Box acts as a central control unit linked to the networked Truma devices.
It forms the interface to the Truma Combi and the air conditioning systems, and also enables the devices to communicate with each other.  The new air conditioning control function controls the system via the Truma App. The digital control panel CP plus – iNet ready coordinates the Truma air conditioning system and the Combi heater perfectly.The temperature remains constant. When it is hot, you remain cool; when it is cold, you are nice and warm. You just need to set your preferred temperature and then you can sit back and relax.
Sensors recognise when the temperature deviates from a preselected level. If it is too cold, the Combi heater starts up. If the sensor registers that it is too warm in the vehicle, the air conditioning in your caravan or camper automatically starts.
What devices can be networked via the Truma iNet Box?
Truma Combi heater, Truma air conditioning system Aventa eco, Truma air conditioning system Aventa comfort (from series no. 24084022 – 04/2013), Truma air conditioning system Saphir comfort RC, Truma air conditioning system Saphir compact (from series no. 23091001 – 04/2012).