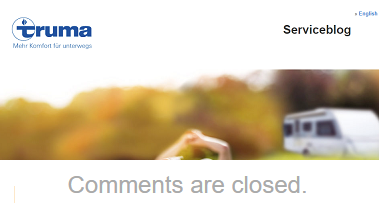 Hello everyone,
From the past, you are used to being able to comment on our articles and thus enter into direct exchange with us.
To ensure that all enquiries can be processed in a high-quality and timely manner, it is important to use a centralised channel for enquiries. We have therefore decided to deactivate the comment function in this service blog for the time being.
You can use our contact form Customer service (truma.com) to post enquiries or feedback. Detailed information is requested in advance, e.g. the serial number of the unit. This enables us to process your enquiries even more efficiently and quickly.
We would like to take this opportunity to thank our community for their constant friendly interaction with each other and with us.
Your Truma Team
PS: We will gladly continue to create articles on current topics for you so that you are always up to date.